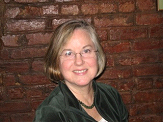 Kate Garretson, (B.A., Vassar College, M. A., MPhil, Yale University, Ph.D., New York University) began her cross-cultural literacy experiences when she was 14 and lived in Vienna, Austria with her family for a year. An AFS exchange year in German-speaking Switzerland and a Junior Year Abroad in Munich, Germany, supported her major in German Language and Literature at both the undergraduate and graduate levels. She studied literature at Yale, focusing on the domestic tragedy as a genre, and then moved to New York to continue her studies in Applied Linguistics.
Professor Garretson taught ESL for many years at the International English Language Institute (IELI) at Hunter College, taught freshman composition at NYU and basic writing at CCNY. As a foreign expert working for USIA, she conducted 10 day teacher education seminars in both Israel and Morocco. Her areas of expertise include content-based language instruction in ESL classrooms, relationships between theory/practice, and teacher change, all of which were elements of her Ph.D. dissertation under the direction of John Mayher at NYU.
A member of the English Department at Kingsborough Community College since 1997, in addition to ESL and literature teaching, Kate has taken on many administrative roles: as Associate Director of the Reading and Writing Center, Academic Director of Learning Communities, and as Coordinator of Writing Across the Curriculum. In the latter capacity, she facilitates an annual faculty development seminar that has led to the certification of over 90 faculty members, helps oversee the work of 6 Writing Fellows, and engages in a variety of program development activities.
Kate's current interests include the integration of contemplative practices in the literacy classroom, a special language awareness intervention for ESL students who speak Chinese, and, as always, all the issues connected with language and learning. She has taught a psychology link with the theme, "The Brain, Evolution and Psychology" in which students consider various topics in evolutionary psychology, and hopes never to run out of great "linking" ideas that integrate the learning of English with the mastery of academic literacies, in context.
Courses
ESL 09, 91: "Developing Fluency in Reading/Writing," taught using content based methods.
Examples of linked, theme courses:
"The Brain, Evolution and Psychology"

"The Wall: Berlin between East and West"

"Peak Experience (Maslow) and Literature"

"Contemplation, Learning, and Philosophy"
ENG 40: Short Fiction
Teacher Education: Certification Seminar: Writing Across the Curriculum
Teacher Education: MA Program, Language and Literacy (CCNY)
Courses :
Second Language Acquisition

Sociolinguistics

Theories and Models of Literacy
Education
New York University, New York, New York.
Ph.D., 1995 in English Education, Applied Linguistics
Dissertation Title: "Challenging Practices: Theoretical Constructs in Content-based Language Instruction."
Yale University, New Haven, Connecticut.
M.Phil., 1977, M.A., 1975 in German Language and Literature.
Vassar College, Poughkeepsie, New York.
B.A., 1972. Major: German.
Selected Publications and/or Other Resources
Chapter in a book: "Being Allowing And Yet Directive: Mindfulness Meditation in the Teaching of Reading and Writing." In: Contemplative Teaching and Learning, New Directions in Community College Teaching Series. Jossey Bass: Fall 2010.
Designed/Wrote Online Tutorial for Certification in Writing Across the Curriculum:
WAC Blackboard Site WIKI, KCC, Winter 2010.
Wiki Course Website: "The Brain, Evolution and Psychology," Winter 2008. http://animalslink.pbworks.com/
Writing Across the Curriculum Certification Seminar Online: Blogger Course Site. Summer 2007. http://constructingcourses.blogspot.com
Chapter in a book: "Ethnographic Dissertations: Understanding and Negotiating the Traps." Written in collaboration with Mara Casey, Neal Lerner, Carol Haviland. In: Voices and Visions: Refiguring Ethnography in Composition, edited by Cristina Kirklighter, Cloe Vincent and Joe Moxley. Heinemann, Fall 1997.
Article: "Out Interviewing in the Field: Studying the local community in a project-base language and literacy class." Literacy Harvest, publication of the Literacy Assistance Center, New York City, September, 1997.
Research Interests
Theoretical practice in language education; language and learning; curriculum design for active learning; contemplative practices in education.
Awards Recognition, Distinctions and Grants
2/11

CUNY Office of Academic Affairs grant for $21,000 for Chinese Learners of English Project.

10/10

Visiting Professor on sabbatical: Universidad National de Nicaragua (UNAN) Managua. Residency, October for scholarship/consulting.

6/10

Collaborative partnership in Berlin, Germany sponsored by Miteinander/Citizen Active and KCC. Immigrant language learners in the Werner Stephan Schule. 1 month stay in Berlin/Magdaburg.

10/09

Visiting Professor on sabbatical. PUCMM, Santiago, Dominican Republic.
Residency, October/November for scholarship/consulting.

9/08 - 3/10

The Chinese Learner of English (CLE) Project, funded through the Office of the Provost to develop special intervention program and support ongoing investigation of issues in second language acquisition.

8/06

Smith College Summer Institute for Contemplative Pedagogy sponsored by Center for Contemplative Mind in Society. 5 day seminar for college faculty. Admission competitive.

7/06

KCC President's Award: $2,000 for learning community curriculum development team (3 faculty).

5/06

City University of New York Faculty Development Grant,
Office of Academic Affairs: $10,000 (for 3 faculty) for the integration of contemplative practices into a Philosophy/ESL/Speech linked curriculum.

6 - 8/04

University Writing-Across-the-Curriculum Summer Planning Committee,
Appointed by CUNY Dean of Undergraduate Education, J. Summerfield.

5/03

"Favorite Teacher Award," KCC Class of 2003

6/03

National Learning Communities week-long seminar at Evergreen State College in Washington state. Wrote the successful KCC proposal sending a team in 2004.

7/00

National Endowment for the Humanities Seminar, "The New Media Classroom," July 10 - 14, BMCC. Web design, "Blackboard," Internet assignments workshop.
Institutional Affiliations / Professional Societies
Adjunct Associate Professor, M.A. in Language and Literacy Program, The City College of New York.

Writing-Across-the-Curriculum-L

National Council of Teachers of English (NCTE)

Conference on College Composition and Communication (CCCC)

Teachers of English as a Second Language (TESOL)

Association for Contemplative Mind in Higher Education
Personal Interests
Travel, art, music, literature, dance, yoga/meditation, language learning.
Languages
Fluent German, Intermediate French, Some Spanish