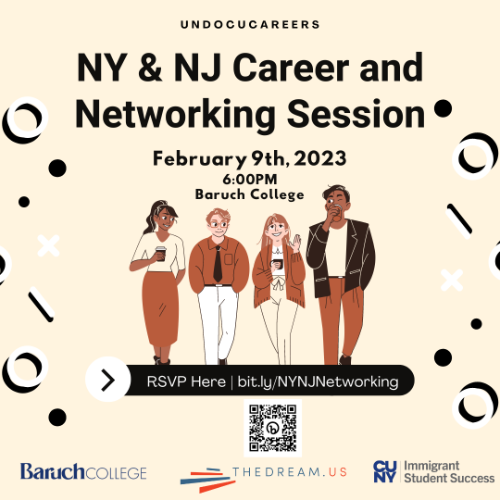 Current CUNY Students and Alumni
NY & NJ Career Networking Session UndocuCareers
Thursday February 9th, 2023 
In partnership with Baruch College, we are hosting a NY & NJ Career and Networking Session for Undocumented and Immigrant Students and Alumni at CUNY. Please share the details below:
This event is open to anyone regardless of immigration status!
This networking session will feature panelists who have navigated their careers in varying immigration statuses. Panelists will include individuals who are entrepreneurs, consultants, and interns with variety of experiences including navigating their career while being undocumented or preparing for the removal of DACA. We will also provide some information of Individual Tax Identification Numbers and resources to help you navigate these opportunities. 
When: Thursday, 09 February, 2023
Time:
Facilitator: Baruch College

2001 Oriental Boulevard

Brooklyn
,
NY
11235-2398
USA