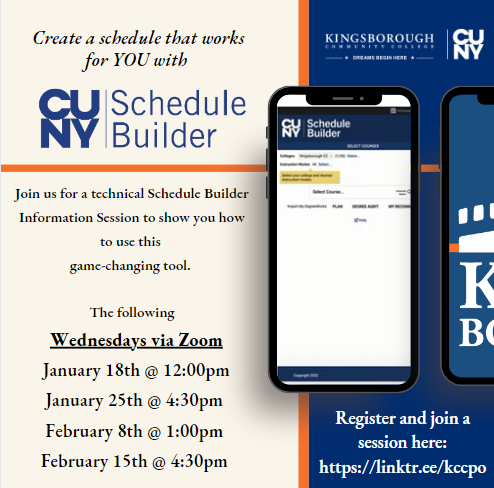 Schedule Builder Information Sessions: Making a Schedule that works for YOU!
February 15th, 2023 @ 4:30pm
Register and join here: https://linktr.ee/kccpo  
Registration is happening NOW and one of the KEYS to SUCCESS is creating a schedule that works for YOU!  Schedule Builder is a real-time class scheduling tool that enables you to plan and register for courses that meet YOUR scheduling needs! This tool will help you easily arrange a class schedule that fits your personal and academic lives.  
Can't make this session?  Watch this video for the step-by-step directions: https://www.youtube.com/watch?v=Sl9Mbbssr50
When: Wednesday, 15 February, 2023
Time:
Facilitator: Linda McKernan

Register In Advance for this meeting/Zoom Register Link Below:
After registering, you will receive a confirmation email containing information about joining the meeting.