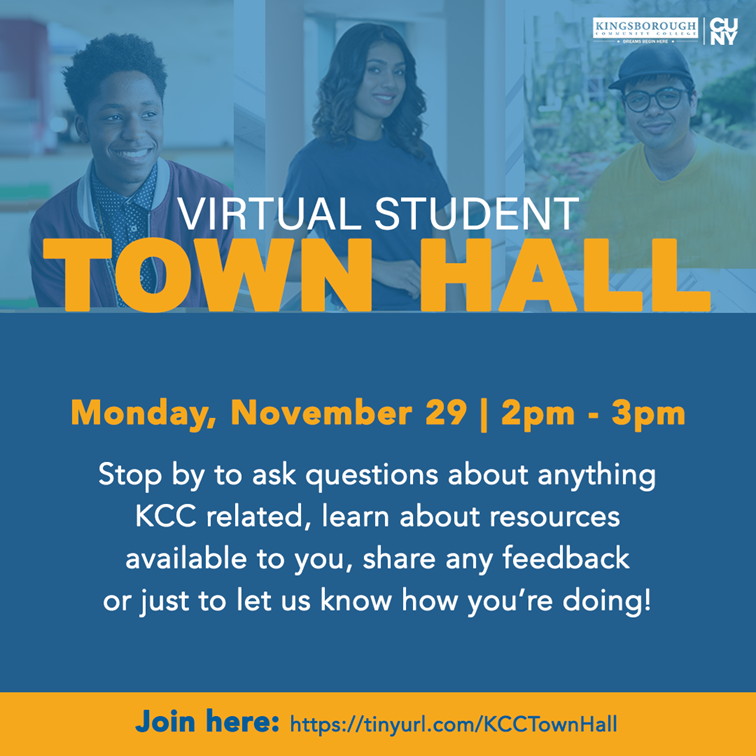 Our next Virtual Student Town Hall meeting of the semester will be this Monday, November 29, 2-3 pm via Zoom.  These town hall meetings are organized to help YOU. 
 Join KCC President Schrader, members of senior staff, and representatives from key areas on campus as they answer questions and address concerns from students.  Stop by if you're having any issues you'd like to be addressed, ask questions about anything KCC related, learn about resources available to you, share any feedback, or just let us know how you're doing!
Reach out to studentlife@kbcc.cuny.edu if you have any questions.  Hope to see you there!
Zoom: https://tinyurl.com/KCCTownHall
When: Monday, 29 November, 2021
Time:
Facilitator: Student Life

Kingsborough Community College
2001 Oriental Boulevard

Brooklyn
,
NY
11235
United States
https://tinyurl.com/KCCTownHal