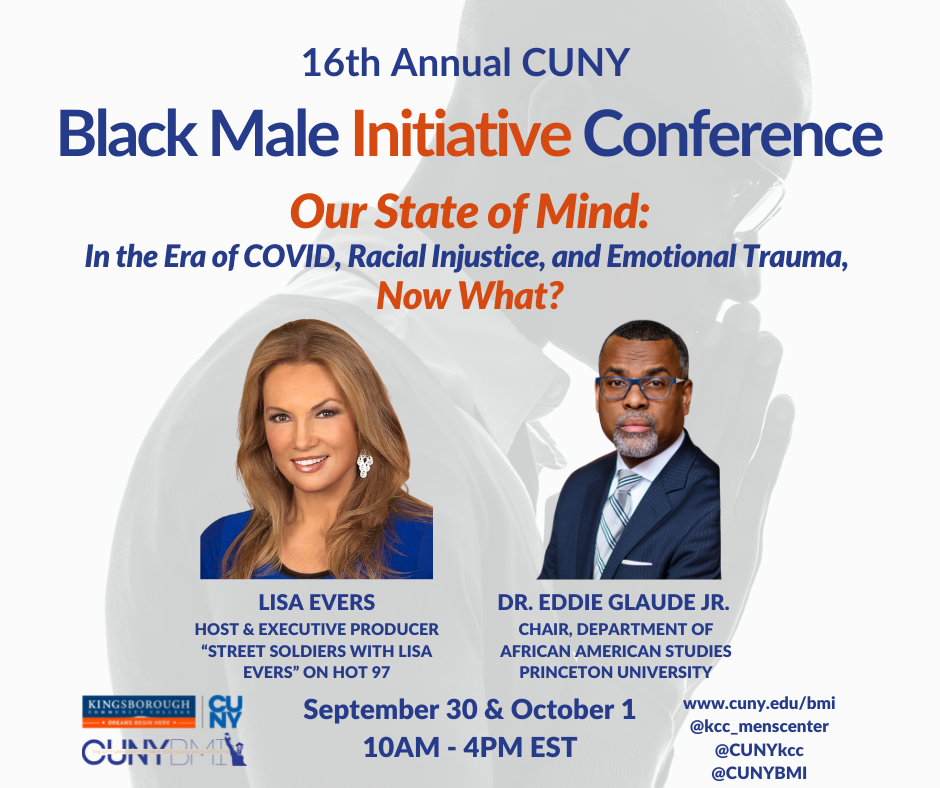 Registration is now open for the 16th Annual CUNY Black Male Initiative (BMI) Conference, titled: "Our State of Mind In the Era of COVID, Racial Injustice and Emotional Trauma, Now What?"
Featuring Distinguished Professor and Department Chair of African American Studies at Princeton University and MSNBC TV Contributing Correspondent Dr.Eddie Glaude Jr., and Host and Executive Producer of the award-winning HOT 97 show "STREET SOLDIERS WITH LISA EVERS" and FOX 5 News Reporter Lisa Evers as keynote speakers, the conference will discuss how Black and other populations' mental health and wellness have been impacted after a year and a half of COVID. With unprecedented levels of stress, emotional trauma, unemployment, misinformation, and fear of social proximity, what are the long-term effects? A host of esteemed panelists will also lead dramatic discussions focusing on the psychology of unlawful policing, the uncertain futures of current and incoming undocumented students, and what critical, emotional "next steps" will follow for the Black Lives Matter movement's continued push for justice.
Last year, CUNY BMI broadcasted its first-ever virtual conference due to the pandemic.  This year, they've partnered with Kingsborough Community College, CUNY BMI's Men's Resource Center, and CUNY TV to launch the second virtual conference.
Registration is open now at https://tinyurl.com/CUNYBMI16THCONFERENCE
While the conference remains free, donations to the CUNY Black Male Initiative are encouraged to support our students.
To give, visit https://cunybmi16thconference.eventbrite.com.
When: Friday, 01 October, 2021
Time:
Facilitator:
Other Dates For This Event:
Kingsborough Community College
2001 Oriental Boulevard

Brooklyn
,
NY
11235
United States
https://tinyurl.com/CUNYBMI16THCONFERENCE