Office for College Advancement
Foundation and Board Members
KINGSBOROUGH COMMUNITY COLLEGE FOUNDATION BOARD MEMBERS
The Kingsborough Community College Foundation is the tax exempt 501(c)(3) philanthropic organization through which individuals, foundations and corporations can make tax exempt gifts to benefit our students, faculty and college. It is governed by an independent Board of Trustees elected on a rotating basis.

The KCC Foundation Board of Trustees represents the commercial, financial, publishing, philanthropic, utilities, legal, real estate, health care, community development, and public relations industries of New York City. Alumni and college faculty and administration also serve on the Board.
To view the Foundation's most recent 990, please click here.
To view the Foundation's Approved Budget for July 2021 to June 2022 (FY 22), please click here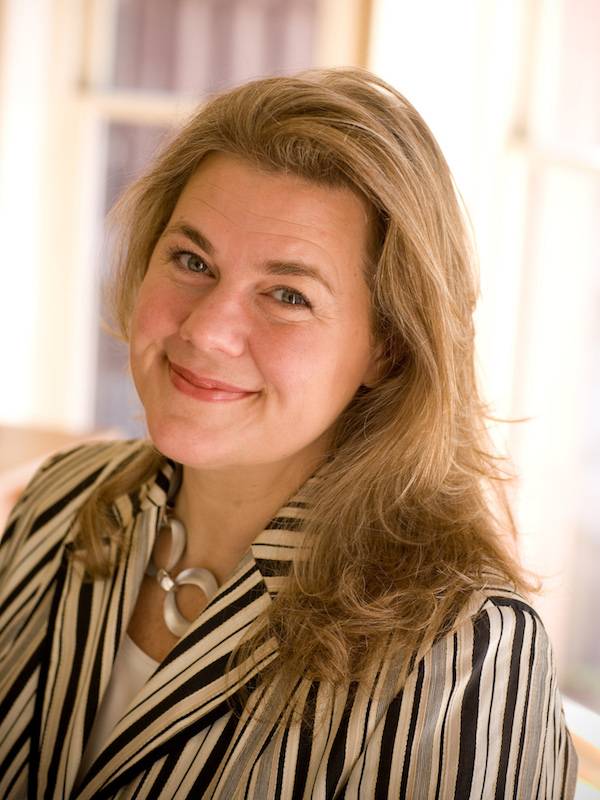 Suzanne M. Murphy became Vice President for Development and External Affairs at Teachers College in February 2008. Prior to working at Teachers College, Ms. Murphy served as Vice President of College Resources at Sarah Lawrence College, and as Vice President of External Affairs and Enrollment Services at Marymount Manhattan College. She also taught intensive summer courses in reading and writing to students in Higher Education Opportunity Program (HEOP); created a similar program for economically disadvantaged children who did not meet HEOP poverty requirements; and coordinated Marymount's program in alcoholism and counseling. Ms. Murphy holds a B.A. degree from Marymount Manhattan College and both Ed.M. and M.A. degrees from Teachers College.

Ms. Lewis is an experienced executive with more than thirty years of experience in community, public, government, and media relations. In her current position with Con Edison of New York, Ms. Lewis manages Brooklyn-based community relations. Previously, she oversaw community relations in Staten Island for the company. In this capacity, Ms. Lewis develops internal and employee relations, reviews funding proposals from nonprofit organizations, and conducts presentations on Con Edison programs, such as Energy Efficiency, to community organizations. Ms. Lewis maintains community affiliations with the following: Brooklyn Chamber of Commerce ( Co-Chair of the MWBE Committee and member of the Government Affairs Committee); North Brooklyn YMCA, Board Member; (Fund Development Committee member); Brooklyn Community Services, Board Member; Cave Canem, Board Member; and American Association of Blacks in Energy, Member.Ms. Lewis holds a B.S. in Communication Arts (1981) from St. John's University, and a M.S. in Health Services Administration (2002) from Central Michigan University.
Joan Bartolomeo joined Signature Bank as Assistant Director of the Community Development Department in October 2013, after serving for 29 years with the not-for-profit Brooklyn Economic Development Corporation (BEDC), the last 23 years as its president.
At Signature Bank, she serves as the community's link to the expertise and financial products that the Bank offers. The Community Development Department is also committed to becoming a part of the community on behalf of the Bank through involvement in community activities and by serving on the boards of locally-focused not-for-profit organizations. Her many years of expertise in community and economic development enhances Signature Bank's understanding of the banking and financial needs facing the organizations and communities within the Bank's service area, which includes New York City, Long Island, Westchester, and Fairfield County, Connecticut.
Joan Bartolomeo joined BEDC in 1984, matching her personal and professional interest in community and economic empowerment with an organization equally dedicated to working in that arena. BEDC was founded in 1979 with the mission to foster business development and job creation and retention in Brooklyn, with services in the areas of small business lending, commercial and retail development, entrepreneurship, commercial revitalization and numerous other activities.
Ms. Bartolomeo is involved with a number of not-for-profit organizations in New York City. She serves on the Brooklyn Public Library Success Council, as an advisor and judge for the BPL's Power Up! Business Plan Competition, on the board of Bridge Street Development Corporation in Brooklyn, and on several boards relating to SUNY Downstate Medical Center's biotechnology initiatives. She recently completed her term as Chair of the Board of Trustees of the Kingsborough Community College Foundation, Ms. Bartolomeo is a lifelong resident of Brooklyn. She is married to former Brooklyn Assemblyman James F. Brennan. She obtained her B.S. in Biology and her M.A. in Urban Studies from Long Island University, where she received a Distinguished Alumni Award in 2001.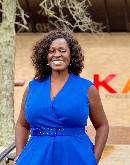 Born and raised on St. Croix, the largest of the United States Virgin Islands, Dr. Claudia V. Schrader took the helm as president of Kingsborough Community College in September 2018.
Dr. Schrader is a graduate of Rutgers University, where she earned a Bachelor of Arts degree in Africana Studies. She received a Master of Arts in Special Education and a Master of Education in Instructional Practice in Special Education from Columbia University, Teachers College, where she also earned her Doctor of Education degree in International and Transcultural Studies. Additionally, Dr. Schrader participated at the Institute for Educational Management at the Graduate School of Education at Harvard University.
Most recently, Dr. Schrader served as provost and senior vice president for academic and student success at Bronx Community College (BCC) of The City University of New York, where she worked with 15 academic departments and a host of programs and affiliated centers to increase student engagement and retention. She previously served as vice president for academic affairs & provost at BCC and associate provost for academic development at William Paterson University of New Jersey.
Dr. Schrader worked at Medgar Evers College of The City University of New York for 12 years, as an associate professor with tenure in the department of education; deputy department chairperson and National Council for Accreditation of Teacher Education (NCATE) coordinator; assistant provost for assessment, research, institutional and student success; and as associate provost of academic affairs.
She has taught primarily subjects related to special education and preparing pre-service teachers at Teachers College, Columbia University, Bank Street College, and the College of New Rochelle, in addition to Medgar Evers College.
Her professional service includes serving as a peer evaluator for the Middle States Commission on Higher Education; membership on the American Association of Community College's (AACC) National Council for Black American Affairs; and a 3-year term on the AACC Commission on Diversity, Inclusion and Equity.
A member of Alpha Kappa Alpha Sorority for 26 years, Dr. Schrader is an active member of its Eta Omega Omega chapter in the Bronx, where she serves as chairperson of the leadership committee.
Dr. Schrader has been an avid supporter of the Habitat for Humanity Global Village Program since 2006, with whom she has spent summer vacations building houses in Brazil, El Salvador, Vietnam, South Africa, Ghana, Kenya, Ethiopia, Bali, Malawi, Zambia and Thailand.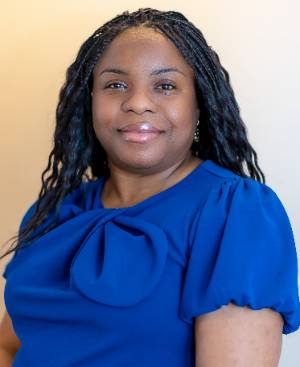 Dr. Tasheka S. Sutton-Young has been a driven and dedicated higher education administrator and educator for over 20 years. As the Chief of Staff and Executive Director of College Relations at Kingsborough Community College for over five years, she has been instrumental in facilitating expanded visibility of the college, increased student retention, and growing alumni donations. Her primary duties include supervision of the daily operations of the Office of the President and administrative staff. She is stalwart in her efforts to ensure students receive high quality education.
As Interim Vice President of College Advancement, she works closely with the KCC Foundation Board, alumni relations, senior administrators, faculty, and fundraising volunteers in the planning and execution of the development program. Her portfolio includes the implementation of a comprehensive strategic plan for fundraising, grants development, and management. Dr. Sutton-Young incorporates innovative practices into plans and strategies, and collaborates with other higher education executives and outside organizations to develop appropriate policies and acquire resources.
Dr. Sutton-Young has garnered numerous honors, including the Tasheka S. Sutton Spirit Award scholarship established at Stony Brook University, awarded annually to a student who is passionate about positively representing fraternity and sorority life.
She is an adjunct instructor at Stony Brook University and the author of Preparing for a Fraternity or Sorority Consultant Visit published by the Association for Fraternity Advisors.

Dr. Sutton-Young serves the institution through participation on multiple committees and in varied ways that advance the college's mission.
She received her bachelor's and master's degrees in Communications from Iona College, and earned her doctorate in Executive Leadership from St. John Fisher College.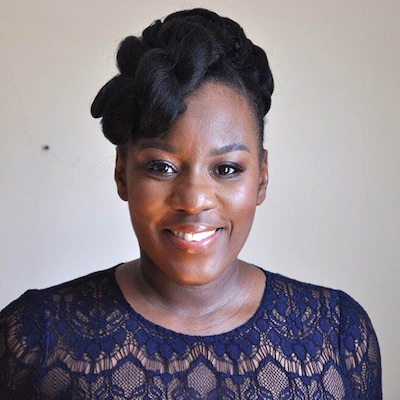 A KCC alumnus, Dr. Alexander is the director of Infection Prevention and Control at New York City Health and Hospitals/Harlem, having previously worked in infection control at Mount Sinai Health System. In addition, she is an adjunct lecturer in biology at KCC. Born and raised on Union Island, Saint Vincent and the Grenadines, Alexander came to the U.S. to pursue her college education.
After graduating from KCC in 1998 with a degree in biology, she earned a bachelor of arts in biology/chemistry from Hunter College, a master of public health from East Stroudsburg University, a master of science in medical microbiology from Richard L. Conolly College of Liberal Arts and Sciences, and a doctorate of public health from New York Medical College Graduate School of Health Sciences and Practice & Institute of Public Health. As director of Infection Prevention and Control, her duties require that she research, evaluate, and incorporate evidence-based protocols into routine practice. She also consults and collaborates with community health organizations and local, state, and federal public health officials to advocate for patient safety, health worker safety, and safe practices.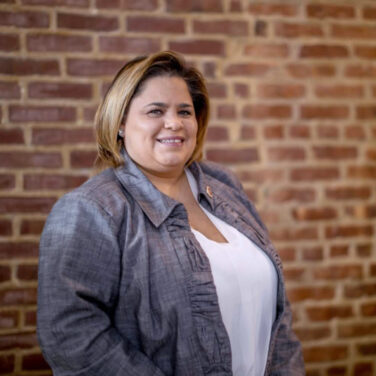 A former district leader and longtime community advocate, Diaz is currently the associate commissioner of special initiatives for the NYC Department of Homeless Services. She is also the former New York City councilwoman for Brooklyn's 37th district, which includes Brownsville, Bushwick, City Line, Cypress Hills, East New York, and Ocean Hill.
"I am a firm believer that education is the key to success. Which is why I am glad to have been chosen to join the Kingsborough family — a family with strong beliefs in providing students with the tools needed to be successful in life," said Diaz.
"As a board member, I hope to promote the importance of higher education throughout many communities. They deserve the opportunities offered at Kingsborough Community College," she added.
Born in Brooklyn to Puerto Rican parents, Diaz currently resides in the Brooklyn neighborhood of Cypress Hills. She earned an associate degree in liberal arts from Long Island University and a bachelor's degree in human services from Boricua College. Her personal experience overcoming homelessness, and as a domestic violence survivor, provides Diaz with a unique insight into addressing the adversities of these vulnerable groups, including the increasing number of CUNY students facing housing insecurity.

Rachel Forsyth, Senior Division Director, Partnership Schools, joined the Good Shepherd Services (GSS) leadership team in January 2004, when she took immediate leadership of opening a Bushwick Academy Off-Site Suspension Program. In that position, Rachel had overall responsibility for the operational management of community-based programs and worked with program staff to develop and integrate new program models into the current community-based structure, as well as monitor the effectiveness of current services. In 2005, as GSS launched our transfer school replication activities, Ms. Forsyth became Director of Transfer High Schools. In 2015, she became Senior Division Director, Partnership Schools, and in 2017, she began to supervise GSS' Brooklyn LifeLink, Young Adult Borough Centers, and Rebound programs. In this capacity, Rachel provides overall leadership in the running of GSS partnership high schools and the above-mentioned programs as well as GSS' intermediary role in supporting the agency's transfer high school model at non-GSS schools. In addition, Rachel assesses service delivery needs, makes recommendations for change, initiates new program development and oversees budgeting. Prior to joining GSS, Rachel spent four years as Director of Crisis Services, and a member of the Executive Council of Covenant House. Her career at Covenant House began in 1994 as a Resident Advisor for older male youth, and she held progressively more responsible positions each year, including being Deputy Director of Research from 1997-1998, Deputy Director of Outreach from 1998-1999, and Director of Program Development from 1999-2000. Rachel has both a Master of Public Administration Degree, with a concentration in Finance from Columbia University, School of International and Public Affairs, and a Master of Social Work Degree from Fordham University. Rachel is also a certified Social Work Field Instructor for Fordham University.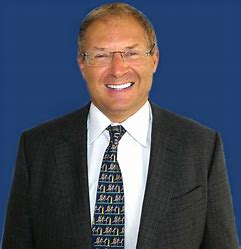 Mr. Maksin is Managing Partner at Maksin Legal Group and heads the firm's New York practice. He is also the founder and CEO of Moonbeam Capital Investments (MCI), a fully integrated, self-managed private equity fund. Born in Kiev, Ukraine, Mr. Maksin was 21 years old when he first came to the United States. As an undergraduate at Kingsborough, he majored in Liberal Arts and distinguished himself as a top student.
After graduating from Kingsborough in 1992, Mr. Maksin went on to graduate cum laude from New York University's Stern School of Business in 1994. He earned a law degree from Benjamin M. Cardozo School of Law, Yeshiva University in 2000 and an LL.M. in taxation from New York University School of Law in 2002.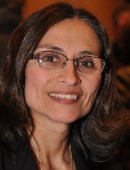 Mary Theresa Ortiz is a full-time faculty member in the Biological Sciences Department here at Kingsborough Community College. Her degrees include a B.S. in Biology & Mathematics from Wagner College, as well as a M.S. and Ph.D. in Biomedical Engineering from Rutgers University. Before coming to Kingsborough Community College in 1993, Mary was a Research Scientist in Biomedical Engineering and Computer Operations at the New York State Institution for Basic Research, as well as an Adjunct Lecturer at New York City Technical College and The College of Staten Island. She has also worked as a Thesis Advisor and Mentor for the Graduate Physician Assistant Program at Wagner College/Staten Island University Hospital. Additionally, she worked for 15 years as an Emergency Medical Technician with the Staten Island Emergency Medical Training Center, and served for a number of years as a Certified Instructor Coordinator. Here at Kingsborough, she has served on numerous departmental and college-wide committees; currently she is a Course Coordinator of College Now Science I and a member of the Planning Committee for the Kingsborough Early College Secondary School. Academic and other honors include: 2003 KCC "Favorite Teacher" Nominee, several awards with the Who's Who publishing company, and a Catechetical Medal of Honor from the Archdiocese of NY.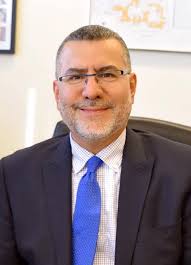 Currently serving as Kingsborough's Vice President of Finance and Administration, Eduardo Rios has extensive executive experience within the City of University of New York. Prior to his current appointment, Mr. Rios served as Assistant Vice President for Finance and Business Services at the College of Staten Island (CSI), and he has also held senior positions at the City College of New York and the CUNY Graduate Center. Mr. Rios graduated from the College of New Rochelle with a B.A. in Psychology. A proud CUNY graduate, Mr. Rios also received an A.A. in Marketing Management from New York City Technical College. Mr. Rios has served on the CSI Foundation Finance and Investment Committee; the CSI Association Board of Directors (President's Designee and Treasurer); and the CUNY Council of Business Managers, and many other college-wide and CUNY-wide committees.

Born in Brooklyn, Frank A. Ruggiero attended Kingsborough and is now the owner and manager of Delta Phase Electrical Corporation a Brooklyn-based, full-service electrical contracting company serving the five boroughs and Long Island. The company delivers high-end electrical contracting services to commercial and residential clients. Mr. Ruggiero, who co-founded the business twenty-two years ago, takes pride in maintaining outstanding client relationships and delivering the highest quality services.
Mr. Ruggiero is an active member of the Italian Cultural foundation at Casa Belvedere. The foundation works to preserve and promote an appreciation of Italian culture and heritage. He is a member of the Southwest Brooklyn Industrial Development Corporation whose mission is to help businesses in Sunset Park, Red Hook and Gowanus neighborhoods grow and provide employment for local residents. Frank is also a member of the 12:30 Club, fostering trade and commerce within the Bay Ridge community for 75 years. In 2014 Frank was named Man of the Year by the Brooklyn Italians Soccer Club for his hard work and dedication to his community. Frank lives with his wife Rosemarie in Marine Park, Brooklyn; together they raised three wonderful sons. In his free time Frank is an avid golfer, enjoys skiing and playing tennis.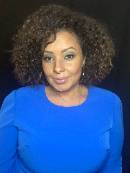 Nancy Lee Sánchez, Ed.D. is the Executive Director of the Kaplan Educational Foundation (KEF). Author of "Your Guide to College Transfer" and a regular contributor to Forbes, Sánchez is one of the industry's leading voices on community college to four-year transfer.
In her role, Sánchez serves as a strategic partner and advisor to the Kaplan Educational Foundation Board of Directors, while managing the Kaplan Leadership Program's rigorous recruitment, academic, advisement, leadership and scholarship components. Sánchez has over 20 years of expertise providing greater access to higher education, improving the college experience, and supporting leadership among low-income, under-represented and nontraditional students through collaborative partnerships and services that directly target factors affecting degree-attainment gaps.
As the founding Director of Academic Advisement and Student Development for KEF, Sánchez was responsible for the design and implementation of the Kaplan Leadership Program (KLP) community college to four-year advisement model, which prepares low-income, under-represented and nontraditional students to transfer to top institutions and become leaders in their communities and professions.
By applying a holistic approach that includes intensive academic advisement, leadership coaching, culture-sensitive curriculum, and collaborative partnerships, the KLP model under Sánchez's leadership has demonstrated an impressive success record: Kaplan Leadership Scholars have earned an 88% associate degree completion rate, a 93% transfer rate, and a 87% bachelor's degree completion rate. Sánchez is a frequent media spokesperson on issues around degree attainment gaps, and has been interviewed by national media outlets including ABC, CBS, FOX, NBC, and SiriusXM. She has also spoken at national educational conferences including ASU+GSV, NACAC, NISTS, NASPA, and PTK . Given her expertise in supporting high-potential high-need students of color,
Sánchez has been invited to speak at the United Nations and the Aspen Institute on the subject of expanding the community college talent pipeline. Her work has been featured in Inside Higher Ed, the Daily News, DIVERSE Issues in Higher Education, the Hechinger Report and PBSNewshour. She also serves as a selection judge for the multiple scholarships hosted by organizations like the Dell Scholars Foundation, Jack Kent Cooke Foundation and the Coca-Cola Scholars through Phi Theta Kappa Honor Society. She also served as the chairman of the board for New York Math Academy and Coaching Services.
Sánchez's own educational journey started at Kingsborough Community College (KBCC), where she earned an associate degree in early childhood education. She went on to earn a bachelor's degree in education from Long Island University, a master's in sociology from Brooklyn College, and is currently pursuing a doctorate degree in Educational Leadership and Innovation at New York University and is set to complete her program in early 2021. As a 2014 National Hispanic Executive Leadership Fellow, Nancy completed an Executive Leadership Program at Harvard University's John F. Kennedy School of Government and a Leadership Development Program at the Center for Creative Leadership. Born in Las Piedras, Puerto Rico, Nancy currently resides in Brooklyn.

Currently Vice President, Retail Market Manager at Investors Bank, Roni Shoyfer is an experienced banking professional. Mr. Shoyfer has a strong track record of increasing sales, improving client retention, growing the customer base, and employee development. Prior positions include Store Supervisor at TD Bank and Assistant Vice President, Assistant Branch Manager at both TD Bank and Herald National Bank. Mr. Shoyfer graduated from Sinai Academy High School in Brooklyn and attended LaGuardia Community College in Queens and the School of Visual Arts in New York. He is multi-lingual, speaking Russian and Hebrew as well as English. Mr. Shoyfer currently lives in Brighton Beach, Brooklyn.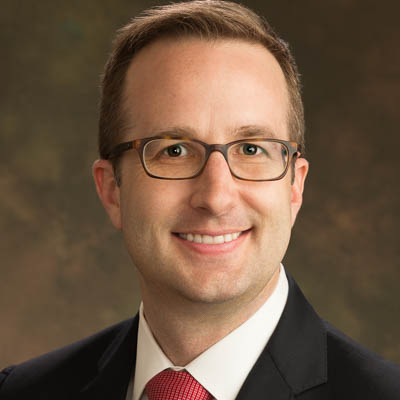 Dr. Scott Stimpfel oversees Learning & Development globally for Citi's corporate and investment bank. He holds an adjunct faculty appointment at New York University's (NYU) Stern School of Business where he teaches courses on professional responsibility and leadership. Prior to joining Citi, he was the Associate Dean of NYU's School of Professional Studies (SPS) Division of Programs in Business and Assistant Dean of Student Engagement and Innovation for NYU Stern School of Business.
Dr. Stimpfel sits on the board of the I Have a Dream Foundation (NYC) and Resources for Educational and Employment Opportunities (REEO). He co-founded REEO, a 501(c)(3) non-profit organization that is committed to empowering underserved community college students. Dr. Stimpfel is the recipient of the Manhattan Institute's Social Entrepreneur of the Year Award and the NYU-Satter Foundation's Social Entrepreneur of the Year Award.
Dr. Stimpfel attended Pasadena City College before transferring to the University of Southern California. He graduated from the University of Southern California, summa cum laude, with a B.S. in Business Administration. He earned an M.B.A. with a dual specialization in Corporate Finance and Entrepreneurship & Innovation from NYU's Stern School of Business. He holds an Ed.D. in Educational Leadership from the University of Pennsylvania's Graduate School of Education.
Dr. Stimpfel is a member of the American Association of Community Colleges, Alpha Gamma Sigma, Phi Kappa Phi, and Beta Gamma Sigma.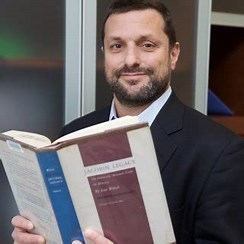 David Woloch is Executive Vice President, Division of External Affairs at the Brooklyn Public Library (BPL) the fifth largest public library system in the US where he oversees government and community affairs, marketing and communications and development. In his time with the library, Mr. Woloch has led an overhaul of Library press function, developed a Library-wide communication plan and increased positive press coverage for the Library and its staff. He was also at the forefront of developing the Library's first strategic plan. Prior to his work with BPL, Mr. Woloch spent 10 years as Deputy Commissioner/Policy Advisory for the New York City Department of Transportation where he managed communications, legislative affairs, intergovernmental relations and graphic services for the 4,000-person city agency; provided guidance to the department's borough offices; developed new initiatives and oversaw the implementation of a number of key agency projects. While at the DOT, he was named one of the 20 most influential non-elected persons in City Government by City Hall newspaper.
Mr. Woloch is an adjunct professor at The New School; he serves on the board of multiple associations and non-profits; coaches youth baseball, basketball and soccer; and has volunteered for a number of political campaigns. David has a Masters in Public Policy with a concentration in Urban Development from Harvard University, John F. Kennedy School of Government and a BA in History from Cornell University in Ithaca, NY. He currently lives in Fort Greene, Brooklyn.