Student Affairs Events
Lunch with Dr. Cook!
Let's connect with your questions about Summer School and Fall 2022 registration. Please join me every Wednesday at 1pm to let me know how things are going for you. This hour is your time!
Please click the link below to join me every Wednesday:
Let's Talk Tuesdays!
Let's Talk Tuesday: Transparent dialogue between KCC community and facilitators to talk about real life situations, issues and for some fears. An holistic space to be vulnerable, open to suggestions and for some a place to just vent about life. Join a community created to be who you are, feel what you are feeling and to walk away feeling like a human who is experiencing things others are also going through.
Workshop Topic: Major vs Career
Date: August 2nd
Time: 11:30-12:30
Facilitator: Hattie Elmore- ARC Director
Registration Link: https://us02web.zoom.us/meeting/register/tZcsduGuqT0tHtVISHd2rVbZhwkHs6yVrJbg
"You've been hit with a triple banger, life, work and school. Let's talk balance."

The Men's Resource Center Presents
A Creative Workshop
Wednesdays at 11 am
Join us for an entertaining and interactive workshop designed to increase your creativity.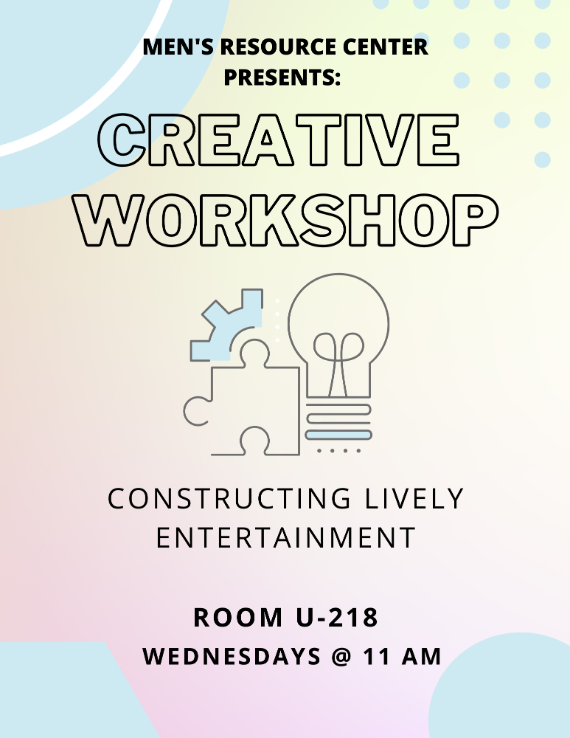 The Men's Resource Center Presents
Film Review with Shamel Williams
Thursdays at 11:30 am and 1:30 pm
Join us In Room U218 or via zoom at:
https://bit.ly/MRCFilmreview